12 Best Movies Like Pinocchio Fans Should Watch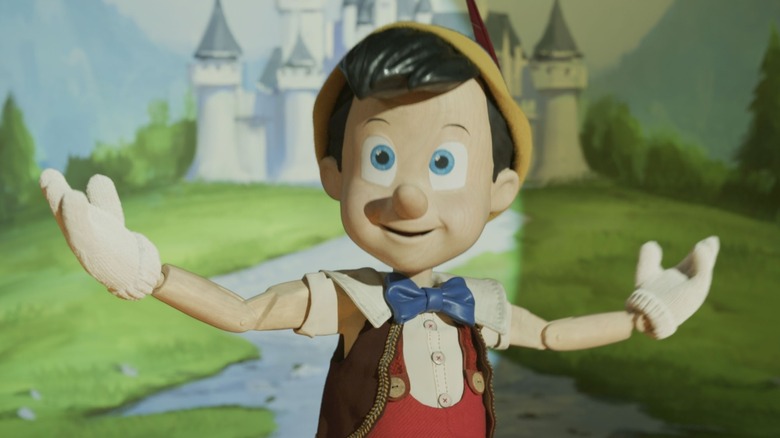 Disney
Based on the beloved 1940 Disney film, 2022's "Pinocchio" is reimagined tale about the titular marionette puppet who wants to be a real boy. Featuring big names like Tom Hanks, Luke Evans, and Cynthia Erivo, Robert Zemeckis' blend of live-action and intricate CGI is visually fascinating. And there's no denying that Hanks is endearing as a mourning father who's confused — but delighted — to discover his puppet has come to life.
But after you've wished upon a star and watched the film on Disney+, what are you supposed to do next? Don't lie — we know there's a Monstro-sized hole in your heart now that you've finished "Pinocchio." What's to be done? Well, never fear because we've compiled a list that boasts strong "Pinocchio" vibes. Whether you're a Disney enthusiast, a book-lover who gravitates to tales based on classic fantasy literature, a fan of science fiction, someone who delights in on-screen puppetry, or even a horror fan, we've got you covered!
The Wizard of Oz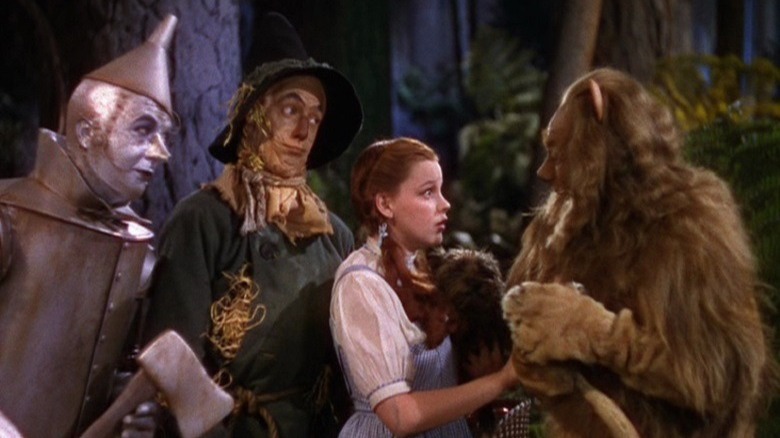 Loews Inc
Based on L. Frank Baum's novel, "The Wizard of Oz" enchanted the world with its catchy songs, lovable characters, and innovative use of Technicolor. Starting off in black-and-white, we're introduced to Dorothy Gale — a girl who feels stuck on her family's Kansas farm. But after a tornado sweeps up her farmhouse and carries her to the colorful Land of Oz, she quickly earns the wrath of the Wicked Witch of the West, the guidance of Glenda the Good Witch, and some very adorable traveling companions in the Scarecrow who wants a brain, the Tin Man who yearns for a heart, and the Cowardly Lion who aches for courage.
Of course, Dorothy's ultimate goal is to follow the Yellow Brick Road, find the Emerald City, and seek out the titular Wizard who can send her back home. Fans of Disney's "Pinocchio" will no doubt adore this film, largely thanks to its anthropomorphic characters with their own earnest desires. Seriously, that little wooden puppet and Jiminy Cricket would fit right in here. Plus, "Pinocchio" and "The Wizard of Oz" both boast enduring songs about longing and dreams with "When You Wish Upon a Star" and "Over the Rainbow," respectively.
Beauty and the Beast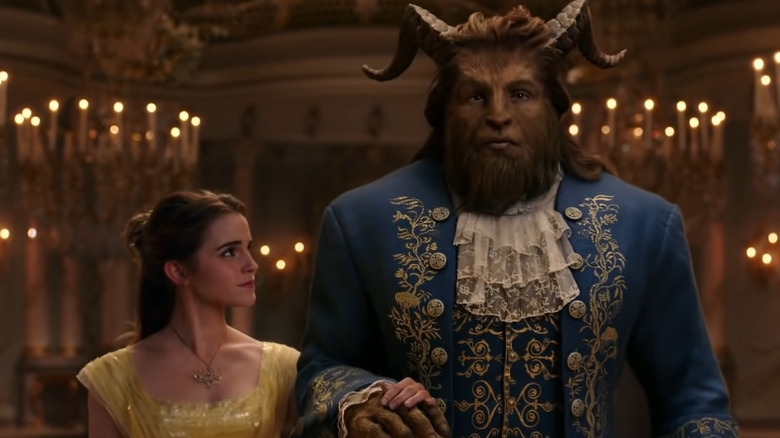 Disney
When a heartless prince turns away a beggar woman in need of shelter, he becomes a hideous beast, cursed to a life of lonely misery unless he can learn to love — and have that love reciprocated. His servants, too, fall victim to some magical body horror, and to make matters even worse, the nearby village of Villeneuve has forgotten all about the castle and its occupants. But everything changes when book-loving Belle, who dreams of more than simple provincial life, ventures into the woods and stumbles into the cold-hearted royal's domain.
Ultimately, this successful version of "Beauty and the Beast" is perfect for Disney enthusiasts who enjoy the company's live-action remakes — especially when those remakes are infused with a poignant backstory about familial loss. The narrative also features an array of lively anthropomorphic characters, from the footman turned candelabra to the majordomo turned clock to the housekeeper turned teapot. What's more, you'll see Pinocchio embedded in many of these characters. The servants yearn to be human (again), and the Beast must learn to be brave, true, and unselfish.
A Little Princess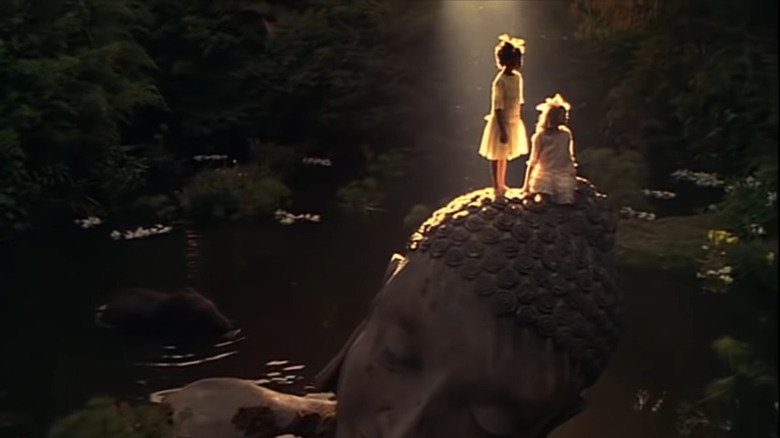 Warner Bros.
Set during World War I, "A Little Princess" sees the young Sara Crewe forced to attend a boarding school in New York City after her aristocratic father joins the British Army. It's a drastic, jarring change from her magical, carefree childhood spent in India. Worse, the school's headmistress, Miss Minchin, rules with a stifling iron fist — condemning Sara to servitude after her father's tragic death. Banished to the attic, the now-impoverished Sara still has a glimmer of hope — and possible salvation — in the form of a wealthy neighbor, his wise assistant, an amnesiac soldier, and her own fantasies.
Like Pinocchio, our protagonist — who never gives up on her belief that all girls are princesses — remains impressively resilient throughout her hardships. But whereas Pinocchio tells grand tales to hide truths from Jiminy Cricket, the Blue Fairy, and himself, Sara uses her expansive imagination and magnificent stories as a way to cope with an increasingly bleak life. As Rita Kempley of The Washington Post put it, "'A Little Princess' exquisitely re-creates the ephemeral world of childhood, an enchanted kingdom where everything, even make-believe, seems possible."
Christopher Robin
Disney
Winnie the Pooh comes to the real world in "Christopher Robin," a movie that blends real actors and real sets with intricate, computer-generated, anthropomorphic characters and imagery. More notably, it's a movie that — like all film versions of "Pinocchio" — owes a great debt to classic children's literature (in this case, A.A. Milne's "Winnie-the-Pooh" books). 
Technically more of a somber sequel than a whimsy retelling, this nostalgic endeavor manages a remarkable balance between silly and dark while presenting a heartfelt narrative about the importance of learning how to embrace childlike wonder again. Here, Christopher Robin has grown into a jaded, work-obsessed man, hyper-focused on his job at the expensive of his family. Cue Winnie the Pooh, who ventures into real-world London in search of his past pal after all his animal friends have disappeared. For a stressed Christopher, who must step away from a work-related problem to return Pooh to Hundred Acre Woods and find the rest of the gang, this catastrophic event is actually a blessing in disguise, allowing him to reconnect with old friends and heal familial rifts.
The Dark Crystal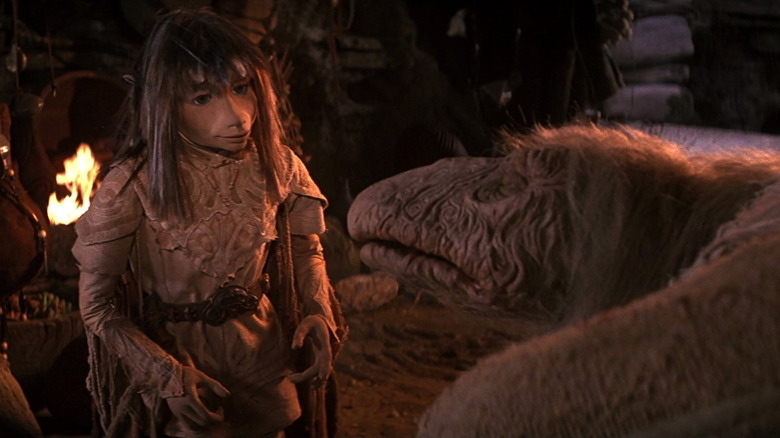 Universal Pictures
With its scary sea monster and cursed island where boys turn into donkeys, "Pinocchio" isn't afraid to get a little dark. And if you're looking for another film that combines horror imagery with puppets (real ones, in this case), we highly suggest Frank Oz and Jim Henson's dark fantasy, "The Dark Crystal."
The narrative follows Jen and Kira, the last Gelflings on the planet Thra who find themselves swept into an epic adventure. A thousand years go, the Crystal of Truth shattered, spawning two rival races — the genocidal, selfish Skeksis and the peaceful (if passive) Mystics. When the leaders of both races die, the world is plunged into chaos, and Jen is tasked with retrieving a broken shard, healing the Crystal of Truth, and saving his world.
Aside from the puppetry and fantasy aspects, "The Dark Crystal" bears a spooky similarity with "Pinocchio." The Skeksis employ an enslaved group of creatures called Podlings, who are reminiscent of the children turned donkeys on Pleasure Island. We even get an Honest John-like character in the cunning, smooth-talking Chamberlain. The result is a movie that will both scare and delight, like all children's fantasy films should.
Alice in Wonderland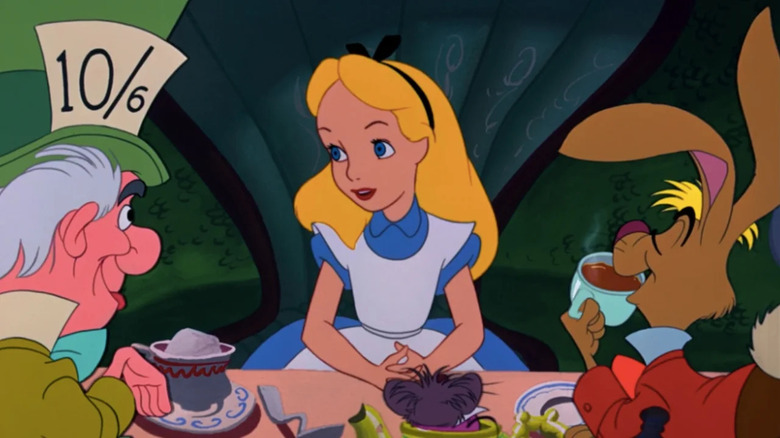 Disney
A musical tale that leans heavily on spectacle — and is based on a classic children's book – Disney's animated version of "Alice in Wonderland" is a strange but fascinating beast that offers a mischievous Cheshire Cat and a smoking caterpillar in lieu of an adorable Figaro and a sassy goldfish. The story begins when a daydreaming Alice follows a fretting White Rabbit down a deep rabbit hole. The rash decision, fueled by curiosity, wonder, and boredom, leads her to a bizarre Wonderland populated by strange creatures who spout — for the most part — seemingly nonsensical things.
Considering Alice's journey through this magical land occasionally evokes feelings of simmering dread, we liken it to Pinocchio's hallucinatory stint at Pleasure Island. And while Alice never has to worry about becoming a work donkey, the Queen of Hearts does demand her head, forcing our heroine to flee from an incensed mob. What's more, Alice's path home is just as long, just as windy, and just as peculiar!
But where "Pinocchio" promises viewers that wishes like Geppetto's can — and do — come true, "Alice in Wonderland" instead feels more like a lesson to be content ... or you might wind up with a pack of angry playing cards chasing you down. Of course, there are other lessons to learn, too, about class divisions and forced labor, if you're willing to do the work and sift through all the psychedelic madness.
Labyrinth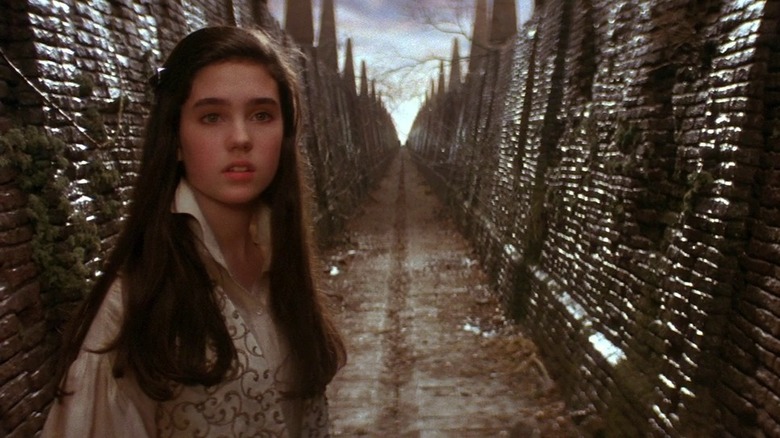 Tri-Star Pictures
From the minds of Jim Henson, George Lucas, and Monty Python's Terry Jones, "Labyrinth" is a fantasy that blends live-action content with some pretty great puppets. The plot follows Sarah, an exasperated teen who resents her baby half-brother, Toby. Frustrated with the kid, she thoughtlessly wishes that goblins will take him away ... and to her guilt-ridden horror, that's exactly what happens.
Like Geppetto, Sarah is shocked when she witnesses the alluring but dangerous Jareth the Goblin King (who happens to looks a lot like David Bowie) steal Toby, although he agrees to return the infant if she can find the center of his labyrinth in 13 hours. Otherwise, Toby will be condemned to live as a goblin for eternity. Aided by a few puppet friends, Sarah navigates her way through the dark, dangerous maze and learns that Jareth — like many of the cruel and selfish adults Pinocchio meets — doesn't play fair. Ultimately, "Labyrinth" offers its audience a very "Pinocchio"-like message about youth in that it's wonderful but sometimes pretty scary, as Sarah must resist tricks and temptations for the sake of her little brother.
Kubo and the Two Strings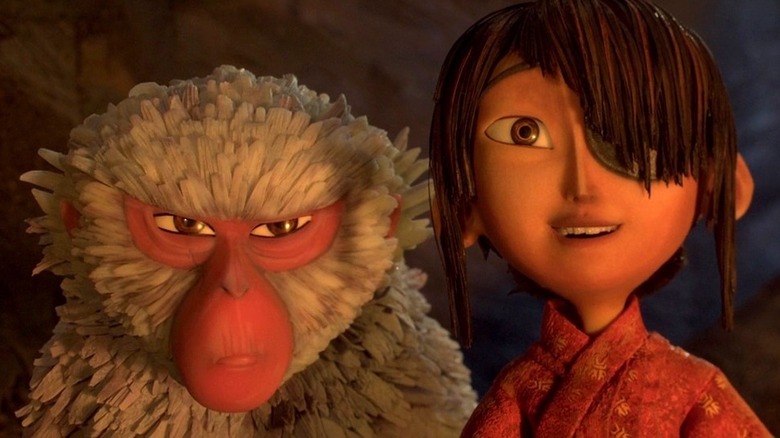 Focus Features
The wondrous and emotionally complex "Kubo and the Two Strings" has more than earned its status as one of the most beautiful stop-motion films ever made. And like Disney's live-action reimagining of "Pinocchio," where we see Geppetto as a grieving father who's lost his son, it starts on a poignant note.
In feudal Japan, young, one-eyed Kubo uses his magical instrument to entertain the crowds, all while caring for his sickly mother. As for his samurai father, he's been missing for years, and Kubo doesn't know what happened to him. Unfortunately, Kubo does have a few other family members — evil, otherworldly relatives who want to steal his other eye. And when they find the poor kid, Kubo must set off to find his lost father's armor while accompanied by a wooden monkey come to life, an origami warrior, and a giant beetle samurai.
As Kate Muir of The Times put it, "'Kubo and the Two Strings' is a glorious flight of the imagination," with Alison Wilmore of Buzzfeed writing, "It's triumphant as well as terribly sad." If you're looking for a children's fantasy film filled with adventure, heartache, and imagination, then prepare to go on a grand journey with Kubo.
Song of the Sea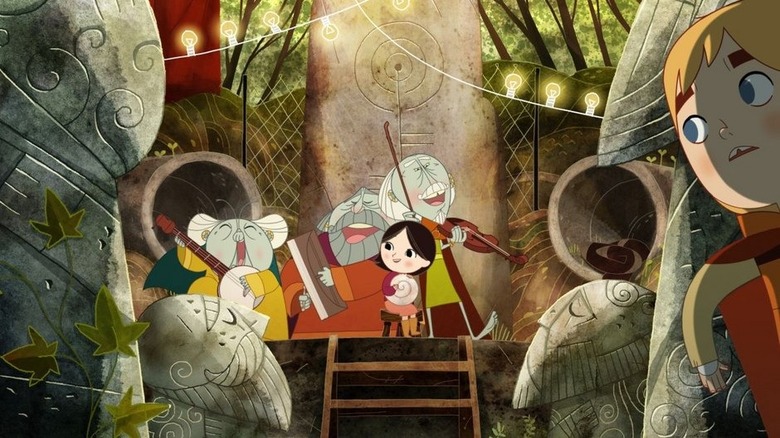 Cartoon Saloon/StudioCanal
From the makers of "The Secret of Kells" and "Wolfwalkers" comes "Song of the Sea," a beautiful exploration of Irish mythology from filmmaker Tomm Moore. Boasting relatable characters, beautiful imagery, and a story that doesn't talk down to kids, this poignant but whimsical tale focuses on a family trying to heal after tragedy. 
Six years after a lighthouse keeper lost his wife to the sea, his family is still suffering. That's especially true for his embittered son, Ben, who considers his mute sister Saoirse to be the cause of his pain. But as Ben slowly learns, his sister is actually a selkie — a being that can transform into a seal. Unfortunately, she's growing sick without her selkie coat, and there's also an evil witch about, turning mythological creatures into stone, which leads our heroes into an adventure involving fairies, the ocean, and a powerful song. 
Like "Pinocchio," Cartoon Saloon's "Song of the Sea" is a visually captivating tale of childhood — one that's unafraid of looking at both the wondrous side of youth and the scarier side of growing up. And just like Pinocchio, Ben — who's found himself embroiled in a desperate race to save his dying sister — must learn to be brave and unselfish.
Coraline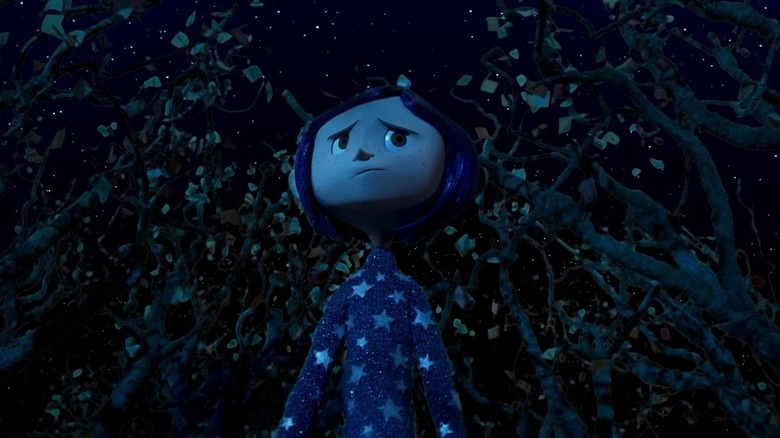 Focus Features
Based on Neil Gaiman's novella of the same name, "Coraline" is a great option for the "Pinocchio" fans who are also horror fans — and who occasionally enjoy a little more goth and grit with their wonder and glee. 
Essentially a modern-day folktale that verges on body horror, the narrative explores the perils of giving into temptation and the struggles of growing up. At the start of the film, young Coraline struggles to adjust to a lonely life with busy parents. Then, she find a tiny door in her living room that leads to an otherworldly realm. Initially, Coraline is enchanted by this strange, parallel universe of button-eyed doppelgangers. Even better, her doting, caring Other Mother is obsessed with attending to Coraline's every whim.
Really, though, this is Coraline's Pleasure Island, and as the story progresses, she realizes the dreadful truth: The monster lurking in the shadows wants her soul. If you were drawn to the scarier parts of 2022's "Pinocchio," like the nightmarish Pleasure Island and the Kraken-like Monstro, then this joyfully dark stop-motion children's fantasy is worth a watch.
Stardust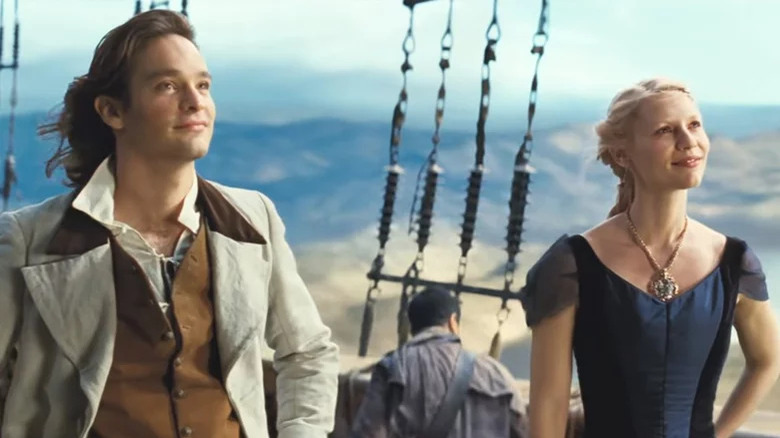 Paramount Pictures
Narrated by the legendary Ian McKellen and based on Neil Gaiman's book of the same name, the magnificent world of "Stardust" is just as strange and fun as that of Robert Zemeckis' rendition of "Pinocchio." 
In the town of Wall, which borders the magical kingdom of Stormhold, young Tristan pines after his childhood love, Victoria. While it's clear to us that his affection is unrequited, the naive and optimistic Tristan is desperate for her hand — so much so that he promises to venture beyond the wall that separates their town from the magical kingdom and bring her back a fallen star. He's stunned to learn, however, that the star in question is not an inanimate object but a gorgeous woman named Yvaine. Still, he's determined to take her to Victoria. Unfortunately, the journey home is tumultuous and soon complicated by a group of witches who want the fallen star's heart and squabbling royals caught up in a murderous battle of succession.
According to Den of Geeks' Kayti Burt, "'Stardust' is a funny, clever, and heartfelt fairy tale of a movie that happens to be criminally underrated by most mainstream movie audiences. ... [It] remains one of the best Gaiman adaptations out there." And though it promises a certain story outcome, as we learn in the new "Pinocchio," the destination isn't actually the point. The journey towards self-acceptance and towards learning what it means to be brave, true, unselfish, and real is the point.
A.I. Artificial Intelligence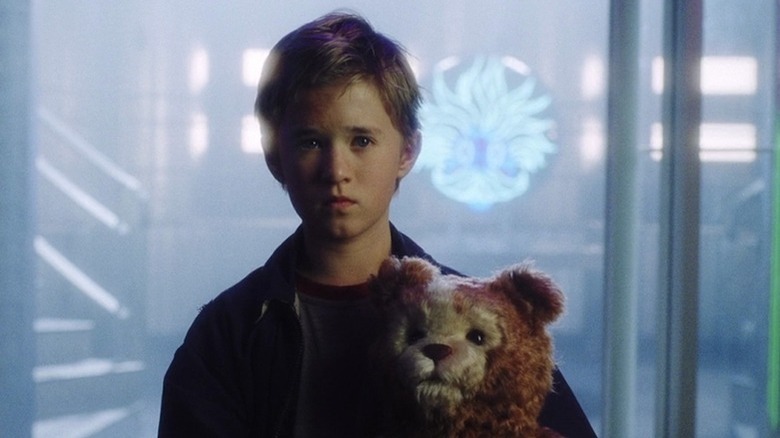 Warner Bros.
Sci-fi enthusiasts who hunger for movies with "Pinocchio" vibes should definitely consider checking out Steven Spielberg's "A.I. Artificial Intelligence," which swaps marionette puppets and anthropomorphic CGI characters for robots and ever-evolving sentient programs.
Set in the 22nd century, "A.I. Artificial Intelligence" introduces us to David — a robot "child" built to love (and to be loved). He's given to a married couple after they're forced to place their sick biological son in stasis. Once he's switched on, David loves his new mom with his full robot heart, but the trouble begins when their actual son comes home — miraculously cured and psychopathically jealous. And after a tragic misunderstanding, David is abandoned in the woods — alone and heartbroken.
With a mechanical teddy bear and robotic gigolo as his only companions, a lost and confused David reminisces on "The Adventures of Pinocchio" and embarks on a quest to find the Blue Fairy, hoping she'll have the ability to make him a real boy so his mother will love him. Along the way, he'll encounter new worlds, the worst humanity has to offer, and his very own Geppetto. The result is a sci-fi fairy tale that's true tear-jerker — "Pinocchio" as a devastating tragedy — and one of Spielberg's most powerful films.