Cobra Kai Season 5 Episode 4 Gifts Us A Top Gun Montage We Never Knew We Wanted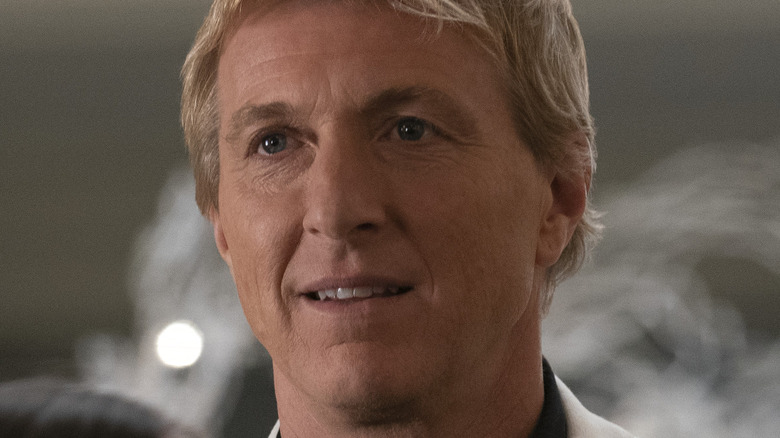 Curtis Bonds Baker/Netflix
This article contains spoilers for "Cobra Kai" Season 5 Episode 4
Much of Season 5 of "Cobra Kai" is dedicated to the romantic foibles of its characters. Between the ongoing romantic heartaches of Miguel Diaz (Xolo Maridueña), Robby Keene (Tanner Buchanan), Tory Nichols (Peyton List) and Samantha Larusso (Mary Mouser), and a temporary breakup between Daniel Larusso (Ralph Macchio) and his wife, Amanda (Courtney Henggeler), there's a lot of relationship drama bubbling up under that rock 'em sock 'em action.
Only one couple spends the entire season in happy accord together. After enduring a rocky patch earlier in the series, Johnny Lawrence (William Zabka) and Carmen Diaz (Vanessa Rubio) are generally in a rock solid place over the course of Season 5. After discovering that they're going to have a baby together, they settle into a fully committed relationship and try to figure out how to tell their children and friends about their upcoming blessing — all while trying to dodge the dangerous traps set for them by Cobra Kai and its wicked allies. 
A fantasy sequence which takes place at the beginning of Episode 4 sets the stage for the domestic bliss Carmen and Johnny hope to share sometime in the future. In a show filled with references to the 1980s, the montage in this episode pays perfect tribute to "Top Gun" in a hilarious and spot-on way that we never knew we needed from the show.
Carmen's fantasy about Johnny pays playful tribute to Top Gun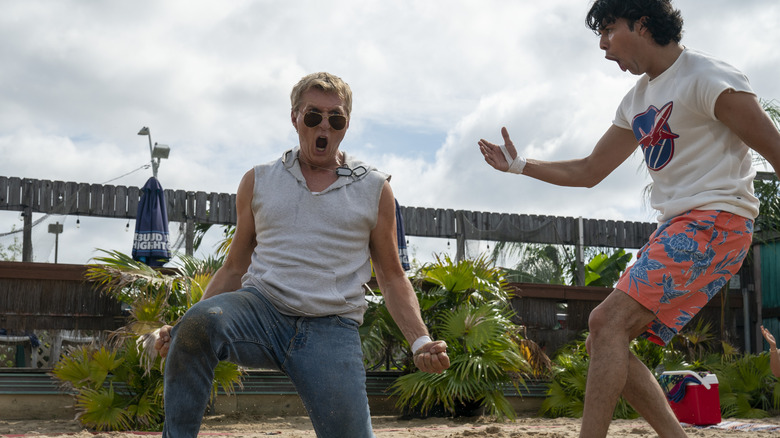 Curtis Bonds Baker/Netflix
Episode 4 opens in a seemingly ordinary manner, but it definitely doesn't stay that way. Carmen returns home from work in her scrubs, only to be confronted with a broken kitchen faucet. She calls Johnny on her cell phone, and he shows up immediately, wearing a flight jacket and sunglasses similar to the kind sported by Tom Cruise's Pete Mitchell. Johnny pulls his sunglasses off and declares, "I'm here for whatever you need, Carmen." She grabs him by the lapels and pulls him into her home for a kiss.
Cue: "Playing with the Boys," the Kenny Loggins' hit from the "Top Gun" soundtrack. A rib-tickling montage ensues. 
The series of scenes gives us some idealized glimpses of the sort of family Carmen and Johnny might want to have. Johnny plays volleyball with Miguel while Carmen and the baby watch, and the Lawrence-Diaz family shares a home-cooked meal. Johnny is seen riding his motorcycle, the baby strapped to his chest in a Snuggli and wearing a matching outfit. And Johnny and Carmen get to kiss passionately in the comforting darkness of her bedroom. The montage has a whole lot of references to the visual style of "Top Gun."
If you think this fantasy montage, in which Johnny gets to look ultracool, is all Johnny's idea, you're wrong. In an unlikely twist, it's Carmen who soon wakes up, blissfully happy in bed, having imagined the whole musical interlude. She turns over and tells the real Johnny that she had a wonderful dream, and he asks her to tell him about it. After all the drama she's been through with Miguel, Cobra Kai, and Johnny himself, it's a moment of happiness Carmen has definitely earned.